The Prosecutor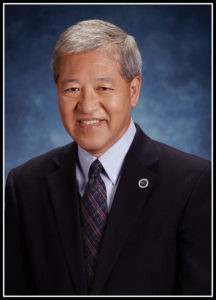 The Prosecuting Attorney for the City and County of Honolulu is Keith M. Kaneshiro.
This is Kaneshiro's third turn as city prosecutor. He was Honolulu's second elected prosecutor and served two terms from 1988 to 1996.
Kaneshiro succeeded the late Charles Marsland, who held office from 1981 to 1988. The city prosecutor previously was appointed by the mayor.
Peter Carlisle succeeded Kaneshiro in 1997 and was elected to four terms.
In September 2010, Kaneshiro returned to the office by winning a special election to serve the final two years of the term vacated by Carlisle to run for mayor.
In November 2012, Kaneshiro was elected to a full four-year term.
In November 2016, Kaneshiro was re-elected to a full four-year term.
Kaneshiro has identified elder abuse, drugs, domestic violence, sex assault, animal cruelty and computer-based crimes as priorities for his office.
Kaneshiro has a long history in Hawaii's criminal justice system, having served for more than 30 years as a deputy prosecutor, deputy attorney general, Honolulu Prosecuting Attorney and state Director of Public Safety.
Kaneshiro is a strong advocate of victims' rights. When he first became city prosecutor, he established specialized units dedicated to sex assault and domestic violence cases. Since returning to office, he has doubled the size of the Elder Abuse Unit, which prosecutes crimes against senior citizens, established a courthouse dog program to help child abuse victims testify in criminal trials, and laid the groundwork for the Honolulu Family Justice Center, which provides long-term transitional housing for the victims of domestic violence.
Kaneshiro's First Deputy Prosecuting Attorney is Chasid M. Sapolu, who has been with the Prosecutor's Office since 2011. He began in the Misdemeanor Traffic Division and has worked in the Trials Division, Screening and Intake and most recently in the Career Criminal Unit were he handled a variety of cases.
The Office
Honolulu's prosecuting attorney is chosen in a nonpartisan election and serves a four-year term. There is no term limit for the office.