Man convicted in hammer attack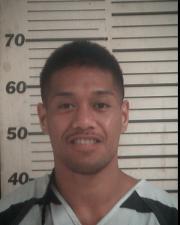 February 12, 2020
The Department of the Prosecuting Attorney thanks the jury and the courageous victim for their roles in the attempted murder trial of Kristopher Kalani.
Monday, February 10, the jury found Kalani guilty of attempted murder for the vicious attack on his then girlfriend outside a Waianae game room in March 2018. Kalani repeatedly struck the 31-year-old woman in the face with a hammer then fled.
A separate trial was held on Tuesday, February 11, to determine if Kalani is eligible to be sentenced to an extended term of imprisonment. The jury found Kalani is a persistent offender and that an extended term is necessary for the protection of the public.
Kalani is scheduled to be sentenced April 15. At that time, a judge will decide whether to follow the jury's recommendation that he be sentenced to the extended term, which is life in prison without the possibility of parole.
The victim's testimony was a key factor in securing the guilty verdict. Her contribution cannot be overstated.
"This is the second time in the past few months we have obtained extended sentencing recommendations in attempted murder cases," Acting Prosecuting Attorney Dwight Nadamoto said. "Extended sentencing is a valuable tool in protecting the public from people who have a history of committing violent crimes," Nadamoto added. A jury recommended extended sentencing for both Brandon Lafoga and Rainer Ines after they were convicted on attempted murder and kidnapping charges in December 2019.