Internship program preps future prosecutors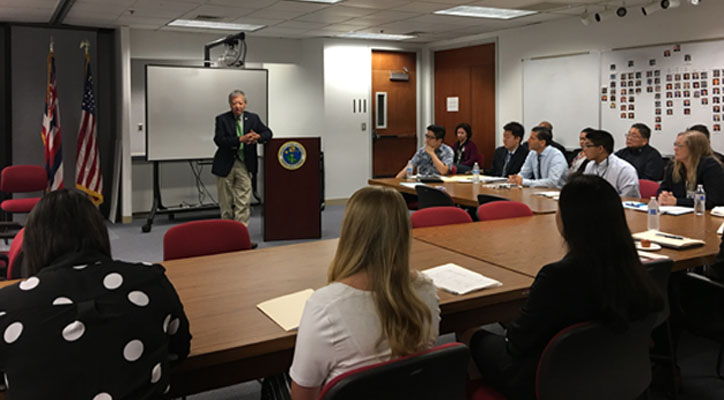 The Honolulu Department of the Prosecuting Attorney offers college students valuable real world experience through its legal internship program.  Law school students and undergraduates from Hawaii and elsewhere gain insight at every level of the criminal justice system from arrest to trial to reform and incarceration.  "The program helps prepare participants for successful careers as attorneys-at-law," said Honolulu Prosecuting Attorney Keith Kaneshiro.
"This internship was incredibly educational and useful because I learned so much about the Prosecuting Attorney's Office and the justice system," said Alyssa Futa, who is studying diplomacy and international relations at Seton Hall University.  "By shadowing DPAs (Deputy Prosecuting Attorneys) and seeing all the preparations, I was able to see all the work that goes into trial," she added.
Interns get a first-hand look at how prosecutors build their cases by interacting with other law enforcement agencies.  Career prosecutors conduct seminars for the interns on how to develop successful prosecution for various types of cases including domestic violence, sex trafficking, and murder.  Interns participate in the research, investigation, and paperwork done in preparation for trials.
"We did so many things.  It was so interesting to see the Hawaii Revised Statutes in action," said Tami Tovar who is studying at the University of Hawaii's William S. Richardson School of Law.
Interns are also given the opportunity to take field trips.  The 19 students who participated in the 2018 summer internship program enjoyed field trips to the Honolulu Police Department's headquarters, the Honolulu Police Training Academy, and Halawa Correctional Facility.
The Honolulu Police Department took interns to view holding cells in the Central Receiving Division and explained how detainees are processed.  It provided interns with a look inside HPD's forensic lab.  Honolulu Police Chief Susan Ballard engaged the interns in a question and answer session.  HPD allowed individual interns to participate in the ride-along program.  It also gave them a comprehensive tour of the Honolulu Police Training Academy in Waipahu where interns learned about the extensive classroom work, rigorous physical workouts, and exacting drills recruits must master before graduating.
The Hawaii Department of Public Safety provided an informative tour of Halawa Correctional Facility.  The tour included stops in modules where inmates are housed, the prison library and learning center, a cafeteria, and a recreation yard.  DPS personnel answered questions on a wide range of topics including inmate rehabilitation and education opportunities, nutrition, and security procedures.
More than a dozen former interns currently work as Deputy Prosecutors in Honolulu.  They are proof of the program's success.
Students interested in becoming an intern can get more information by clicking here.