Boy Scout Troop 10 Visits Honolulu Prosecutor's Office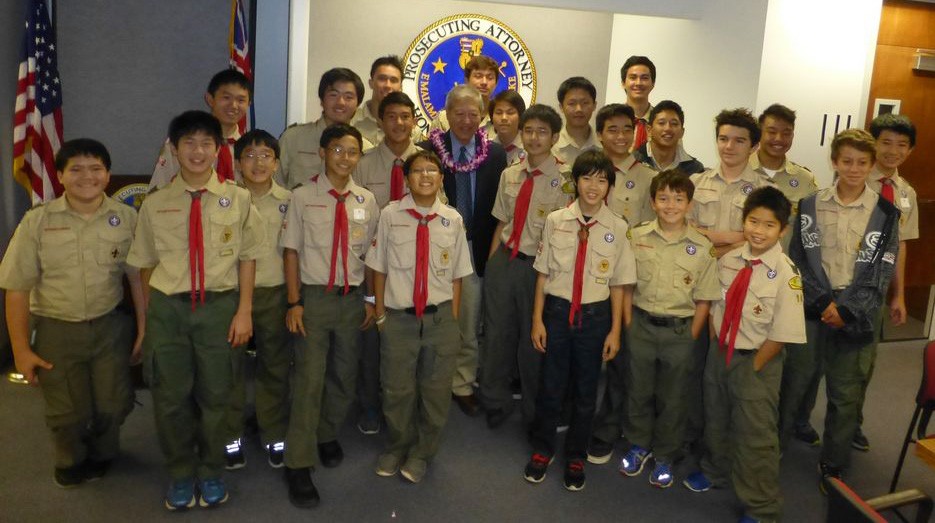 Members of the Boy Scout Troop 10 visited the Prosecutor's Office on December 21 to learn about the legal system and the role of law enforcement in the community.
Honolulu Prosecutor Keith Kaneshiro and deputy prosecuting attorneys spoke to the troop about the role of prosecutors within the criminal justice system. The Boy Scouts, who ranged between 11 to 17 years old, also asked the prosecutors questions about public safety. Issues about homelessness and what happens if a person is caught jaywalking were all discussed during a wide ranging question and answer session.
The visit to the Department of the Prosecuting Attorney by the 23 Boy Scouts was part of a daylong excursion where the boys learned about the government while obtaining their Citizenship in the Community Merit badge. Along with the Prosecutors office, the boys visited various courtrooms, 'Iolani Palace, the State Capitol, and met with the US Marshalls.
One of the parents who accompanied the Boy Scouts sent the following message to the department:
"Dear Mr. Kaneshiro,

The Boy Scout Troop 10 would like to extend a big MAHALO to you for speaking to us on December 21. The boys and parents all learned a lot and really enjoyed the visit to your office. Your discussion will help the boys to achieve their Citizenship in the Community merit badges. Who knows, some of them may be inspired to go into law or law enforcement!

-Spencer Kimura "