Deputy Prosecutor Bell named TOP COP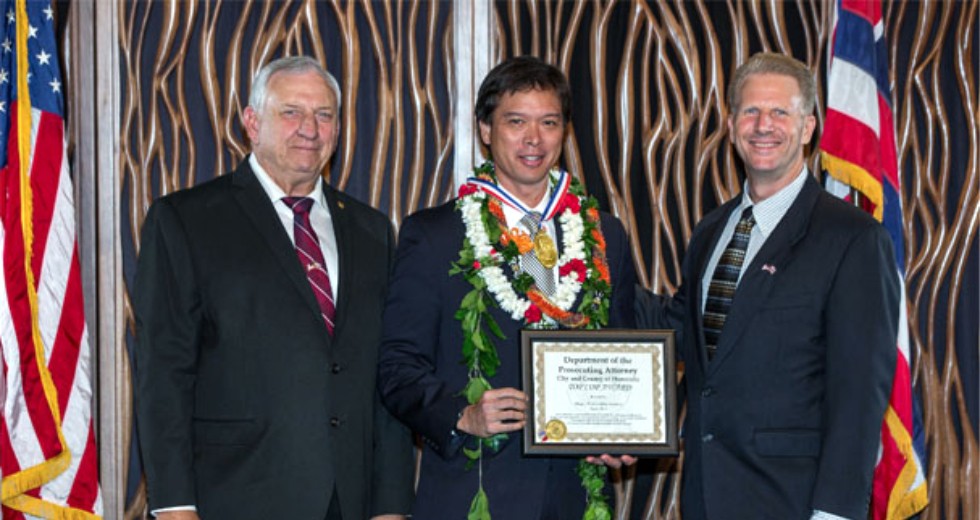 October 29, 2018
Deputy Prosecutor Scott Bell is The Department of the Prosecuting Attorney's TOP COP for 2018. The Law Enforcement and Security Coalition of Hawaii recognized Bell and other TOP COP recipients during its annual awards banquet in October.
Bell has a proven track record of securing convictions. His extensive knowledge of the law and thorough preparation make him an excellent trial attorney. Above all Bell is passionate about doing everything he can to ensure justice is served.
Bell joined the Honolulu Office of the Prosecuting Attorney in May 1999. He began his career as a Deputy Prosecutor in the Misdemeanor / Traffic Division. He has also worked with the Sex Assault, Domestic Violence, Career Criminal and White Collar prosecution teams. Bells currently serves as Chief of the Special Prosecution Division. That division includes the Sex Assault, Elder Abuse, and Career Criminal units. As Chief of the Special Prosecution Division Bell not only prosecutes some of Honolulu's most complicated criminal cases, he also oversees and mentors 17 Deputy Attorneys and three Paralegals.
Bell achieved his most recent success when a jury found 22-year-old Dae Han Moon guilty of Murder in the Second Degree. Moon's defense team had hoped the jury would find him guilty of the lesser charge of manslaughter. It argued Moon didn't intend to kill his 20-year old victim. Instead, the defense said, Moon's gun went off accidentally killing 20-year old Stevie Feliciano. But armed with evidence collected by police, surveillance video, and eyewitness testimony, Deputy Prosecutor Bell was able to convince the jury Moon knowingly pulled the trigger causing Feliciano's death. Moon faces life in prison with the possibility of parole when he is sentenced in December.
Gerald Austin is already serving life in prison. Austin was the subject of a cold case involving the sexual assault and murder of an 81-year-old woman in her home at a senior housing complex on Kalakaua Avenue. This horrific crime was a mystery for nearly 25 years. But when DNA eventually implicated Austin it was Bell who secured a conviction and the harshest penalty allowed by state law.
Bell's courtroom victories include the case in which Matheu Hongel was convicted of Attempted Murder for an unprovoked stabbing outside a Waikiki hotel. Bell prosecuted Jessica Hinebaugh and boyfriend Michael Ayala who were found guilty of Attempted Murder, Kidnapping, and other offenses for attacking Hinebaugh's pregnant sister in her Mililani home. And Bell proved to a jury that Army soldier Solomon Battle brutally attacked a woman with a knife in Waikiki. Battle is serving a life sentence.
These are just a few of the dozens of cases Bell has successfully prosecuted. He has helped put away killers, drug dealers, sexual predators, white collar criminals, thieves, and drunk drivers. He does it by working long days, paying attention to detail, and caring about the community he represents.